It's teacher blog Tuesday!
Today's guest blogger is Jen from: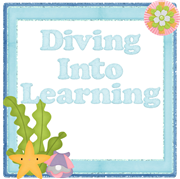 1. Name of Blog and Link?
Diving Into Learning
2. Tell us a little about your blog and why you started it
.
I started my blog last summer. I had followed many education blogs for a while and decided I wanted to start my own. I love the blogging world and all of the great people I have "meet."
3. How long have you been teaching?
I have been teaching for 4 years.
4. What grade do you teach?
I have experience working in lower grades. Last year I taught pre-k full time, this year I'm splitting my time between pre-k and helping out our kindergarten and first grade classes.
5. What is your favorite thing about teaching?
I love those "light bulb" moments when a student all of a sudden figures something out, especially if it is something they have been struggling with.
6. What else would you like to tell us about?
I love blogging about the hands on activities that I have done in my classrooms. One of my favorite blog posts is about one of our science activities. We did salt paintings where students made a design with salt and then painted it with water color paint. It was such a fun activity and students were so excited and proud with their results. Here is the link to the
blog post
.
7. Where else can we find you?
Pinterest
:
Facebook
TpT
8. If you want to include a freebie, what is it and where can we find it?
Here is the link to one of my freebies! It is a
spring numbers gam
e
focusing on numbers up to 30!
Stop by and follow her blog & grab her freebie! Thanks for guest blogging Jen!