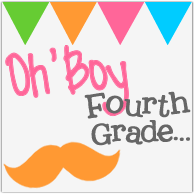 Listening: I adore Beverly Hills 90210. I've definitely seen the series about a thousand times, but yet I still watch it. Gotta love Soap Net!
Loving: I love, love the weekend! Especially since I quit my 2nd job! It's so nice to relax and have time with my family in between Grad School assignments! :)
Thinking: It's 11:41pm...I should go to bed. 6am is going to come super early!
Wanting: A 3 day weekend would be super fabulous :) We have a workshop tomorrow and I'm not looking forward to staying after school tomorrow!
Needing: Elijah is still awake. He has a tape worm and has been eating everything in sight. I can't go to bed until he does...dilemma!
Trick or Treat: Here is a Cute Halloween Write the Room Freebie. Enjoy!
Head over to Oh' Boy 4th Grade and
link up
!