It's that time again - Teacher Blog Tuesday!
Today's Guest Blogger: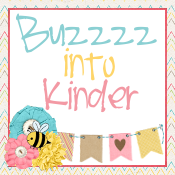 1. Name of Blog and Link?
Buzz Into Kinder
2. Tell us a little about your blog and why you started it.
I started blogging in September of last year. I loved the idea of connecting with such enthusiastic educators! I wanted to share the things I was doing in my classroom, build relationships and learn from educators all over the world.
3. How long have you been teaching?
I have been teaching for three years!
4. What grade do you teach?
I teach Kindergarten!
5. What is your favorite thing about teaching?
My favorite thing about teaching is watching the progression of my students from the beginning of the year to the end of the year. I love getting babies at the beginning of the year and watching them walk out of my room as readers at the end. I love the celebration we have as they learn each letter, then sound, and finally sight word. I love having mini dance parties we have when the light bulb clicks and one of my students learns how to blend sounds.
6. What else would you like to tell us about?
I feel strongly that ever minute counts in the classroom. I run literacy and math centers for the majority of my day so I can teach students at their level. In order to do this the other students need to be engaged in activities that are meaningful and on their level. In my classroom I disguise centers as games and use a variety of materials so each student is working at an appropriate level.
7. Where else can we find you?
TPT Store
Pinterest
8. If you want to include a freebie, what is it and where can we find it?
I would love to giveaway my
CVC word packet
to one reader!
If you are interested in winning this great packet, leave a comment letting us know you have followed
Buzz into Kinder
and
Buzz Into Kinder's TpT Store
with your email address (leave a comment for each!) and we will pick a random winner for the packet on Wednesday April 17th!