Another busy day in Kindergarten! I am knee deep in progress monitoring and while I loathe it, I am loving watching my babies use their reading strategies and independently read books I wouldn't have dreamed they could read a few short weeks ago!
Last week we focused on Christmas in America, but starting this week, it's all about Christmas Around the World! Today we focused on Japan. We learned all about how to say Merry Christmas, their traditions, and how they decorate. The kids were super excited when they recognized that they decorate with Origami Cranes in Japan and we have those on our Christmas tree in the classroom. A few years ago, one of my parents from Japan made me several and I have kept them. We definitely aren't read to make Origami in Kindergarten, so we made Japanese fans instead.
They are super simple! 9x12 Construction paper, staples, glue and glitter is all you need. We let our kids choose any color of construction paper, but my friend across the hall used black paper and the glitter looked so pretty on it! Anyway, they fold the paper in an accordion style and you staple it at the bottom. Let them add some glue, you add some glitter and voila - a fan! :)
Simple but so cute :) The kids LOVED them :)
On to the 2nd Day of Christmas...
Today's freebie is brought to you by...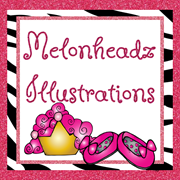 I absolutely adore her clip art! Head over to her blog to grab her freebie and enter the giveaway for some super cute clip art!