Today was a super busy day! We worked on parent presents and beaded ornaments.
These are wooden ornaments from Michael's. I got them from a donation a few years ago and I pull them out and let the kids choose each year. I used them all this year, so next year I'll come up with something new! :)
When we wrap them, we simply put them in a white lunch bag with tissue paper from the Dollar Tree. I die cut some trees with scrapbook paper and let the kids choose one to glue to the front. We also put a label that said Merry Christmas Love, Student Name.
So you know how I posted that Jolly was taking a break from our class for a day? The kids missed her dearly on Thursday and got their act together, so she came back today and brought with her a Naughty and Nice list. She even laminated it so Ms. Moore and I could write on it with a dry erase marker. Today was a MUCH better day! :)
On to the 13 days of Christmas!
Today's post is brought to you by...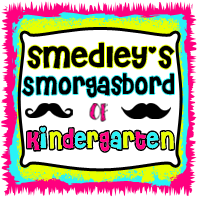 Head on over and grab his super cute freebie and enter to win his See, Count, Write & Graph: January Edition packet!
If you missed yesterday's post, swing by the Clever Classroom to scoop up your freebie and enter the giveaway!
Have a great weekend!